Search
39 result(s) matching "sunset", (0.05 seconds)
Sunset or Sunrise?
I love sunrise because of the good vibe it shows but i prefer Sunset cause its end of the day, the fakeness are over. True self will reveal and its more peaceful.
Hot Day and Great Sunset.
Almost Night time and Sunset looks great from rooftop view. Share Your sunsets ;)!
photographic object..
@tehkotak beach sunsets... or sunsets in general
Freedom writers - writing, one story together "A strange journey" Chapter 3 - Is it following us?
I get in the bathroom to change as quickly as I could so that I would have plenty of time to play in the water. I opened the door of the bathroom to get out I couldn't believe what I saw. It was a shadow. A shadow of someone... getting closer, without making a sound. I was terrified wondering what it could be... and then, it disappeared as lightning as if it just realized someone was watching him or something. Or was it just in my head? Was I hallucinating? Is it following me?
A voice of a guy calling my name broke my chain of thoughts. It was him, my beloved boyfriend.
"Hey! Is everything alright", he said, with a concerned look on his face.
"Yeah... I'm alright... I'm alright", I said in a low voice
"But you don't seem..." he said before I cut him off
"I'm fine... okay, it's just that I saw something near the bathroom door moving. I think someone is following us." I said in a desperate voice
"No, no one is following us are you crazy? And if they were why would they do it?" he said
"I don't know, but I don't think we're safe, what if he does something to me or..." I said before he put a finger on my lips to shut me
"Nothing is gonna happen to you till I take my last breath. No one can even touch you as long as I am here. I promise. Okay?" he said, as he held my arms.
He leaned over to kiss me and hug me tightly. I always feel safe around his arms. He always makes everything better. With him being by my side I feel we could get through all the bad happenings.
"Let's go," he said
"Go where?" I asked
"I believe the beach is of more purposes than just for you to stand on the sand" he said
"Really? WOW, I didn't even know that. You just saved my life by telling me about this Mr" I said in a sarcastic tone
"You're welcome miss" he said smiling. I punched him in his stomach as he groaned. "That really hurt" he said. "You deserved it" I said and walked into the water. The water felt nice. As if all of my life's problems are gone. I held his hand as we went into the water. It was one of the most amazing moments I would like to capture and never forget. I wanted this memory to stay forever and ever!
And then, it was time for my favorite part. The sunset. The most beautiful sunset I have ever encountered especially when I am having it with him! I called him up. "What?" he said grumpily. "Come sit," I said smiling at him. "I thought we were having fun," he said as he sat down next to me. "Look," I said pointing at the sunset. "It's the most beautiful sunset I've ever seen," he said as he held my hand. "I don't wanna leave this place, ever," I said.
I leaned my head to rest on his shoulder. I looking down at our reflection in the water. The water reflected two heads and another one emerging between ours. Is someone behind us? "There's someone behind us!" I shouted as hard as I could. "Where?" he said in an alert voice...
Sunset or Sunrise?
@graythegreat Sunset of course!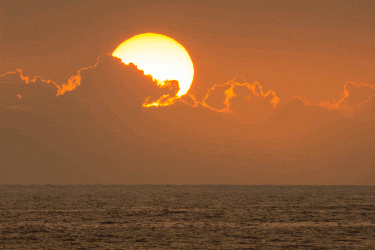 Sunset or Sunrise?
@graythegreat sunset if you're with a loved one. You can watch the sunset as you connect with them and talk about life. Sunrise for the loved one you eventually married and can drink coffee with them as you discuss future plans together
What would you name your kids and why?
@thestrangest i have alot of names, so heres the list lol
agatha emily, layla/laila jane, ( because sound so cute and pretty )
senja, jingga (because i like sunset ) those are indonesian word senja means twilight and jingga is the orange colors of sunset
ohana azalea ( if my daugher born on june because that flower blossom on summer around june)
ryouta, zilan (because sound cool lol)
tosca , blue ( because i like those colors)
arletta and arnelitta ( if i have a twins girl )
Check out my music!
Are all of these songs made by you?.
Peaceful Sunset
it really brings what it promises, a peaceful sunset
i liked this one, a lot.
Underwater Waltz
too generic to my taste, well made, but...meh
Morning Light
smooth, chill out music, nice vibe the entire song, i liked the end, good job
Shannon
cool sound, the start was a bit iffy, but the rest was gooood.
Diggin` It
again, too generic, not my cup of tea. (or maybe its the lounge genre)
Chill For Jesus
i dunno...there were parts that i liked and parts that i didn't,
all in all; meh+