Search
126 result(s) matching "parts", (0.06 seconds)
does any1 here is confuse bout there sexuality?
are you saying u r not attracted to lady parts?? but attracted to man parts??
or are u saying u r attracted to both lady and man parts
or r u saying u never had a chance to be attracted to anyones parts ever...
HONESTY IS A BRUTAL THING
PARTS ONE, TWO, and THREE ARE UNIMPORTANT, IF YOU DONT CARE JUST SCROLL TO PART FOUR LOL
So today i learned that i sound like an airhead and that im super annoying with all my caprisun references. And i just want to say, fuck you, you know who you are.
And part two, dont you just hate it when you find out your friend is actually your biggest hater?
Part three- the rates that you gave yourselves on one of my previous posts were sad. Especially since i value most of you guys dammit.
And part four, im starting a love post. So you have to comment about the user in the comment above yours. Nothing but love and appreciation or ill chop your balls off. Ill get someone started,
Someone comment about the user @football_m29 (NOT ME, PLZ AND THANK YOU). Once you comment about him, you have to give another username, for someone to comment about them. Lets see how far the game will go.
You're a benefit to humanity
you might want to use something like this before posting your poems:
http://www.reverso.net/spell-checker/english-spelling-grammar/
Example:
1st try to paste the whole text as it is
You'll get an aerror because it's too long so see how many paragraphs you can fit at a time
I found out that it was 3 paragraphs
2nd paste in what you wrote in parts and see what spelling/ grammar/ form of a verb isn't accepted then search what the correct writting is if you don't think the program got it right
1st part

Result:
You are not a threat to the societyJust give a break to you and your anxietyThere are the reasons of variety But not about you and your personalityTrust me, you do matterLook, a bird for you that chatterThey would make you fatterYou just made happy marbles scatterTo the world you are importantLook, those stars twinkling at constantJust don't be a dark absorbentDon't let your happiness be shortened
Found errors
U>You
Trust me you do matter>trust me, you do matter
Flatter>fatter>(there was an error detected but the suggested solution was incorrect too)>(find the correct form of the verb by looking for it on google or whatever)>flattered
2nd part

Result:
Don't let your soul be depressed thank god you are the one blessed some do not even get it expressed but they are the ones more oppressed They are the ones seeking for hopeIn some situations, they cannot copeThey don't see happiness even with a microscope Have to climb to the top of a steep slopeBut they do know how to handle the painAnd you must get it inside your brainEnding it all will owe you no gainIn fact, you'll lose the beauty of the rain
Found errors
By>with
From>of
3rd part

Result:
Many of you get your ego hurtThat is such a shame and dirtHow ending it all is gonna give you comfort "I'm stupid" should be written on your shirtTrust me, it will get better with timeSit back and taste this juice of the limeYou will need some energy to climbTurn those happy memories on rewindYou are blessed, you are aliveC'mon and give me a high fivePut on the seat belt and I'll driveWe need to tell others they need to survive
Found errors:
Gonna>(there is an error detected but there are multiple suggested solutions in which only 1 is correct)>(choose the right one)>going to
Note
If this was supposed to be a rhetorical question then it should be
"How is ending it all going to give you comfort?"
4th part
EVERYTHING IS CORRECT
Everything put together + highlighted edits from me:
You are not a threat to the society
Just give a break to you and your anxiety
There are the reasons to variety
But not about you and your personality
(Btw "reasons to variety" is incomprehensible, what does that even mean? The following "But not about you and your personality" also doesn't make sense in this case)
Trust me you do matter
Look, a bird for you that chatters
They would make you flattered
You just made happy marbles scatter (what does this mean?)
To the world you are important
Look, those stars twinkling at are constant
Just don't be a dark absorbent
Don't let your happiness ("life be shortened" is better in my opinion) be shortened
Don't let your soul be depressed
thank god you are the one blessed
some do not even get it , when (optional but sounds better) expressed
but they are the ones more oppressed**(WHAT DOES THIS MEAN)**
They are the ones seeking for hope
In some situations, they cannot cope
They don't see happiness even with a microscope
Have to climb to the top of a steep slope
But they do know how to handle the pain
And you must get it inside your brain
Ending it all will owe you no gain
In fact, you'll lose the beauty of the rain(i really don't think someone would give a shit about the rain in such a state)
Many of you get your egos hurt
That is such a shame and dirt
How is ending it all going to give you comfort?
"I'm stupid" should be written on your shirt
Trust me, it will get better with time
Sit back and taste this juice of the drained from lime
You will need some energy to climb
Turn Put those happy memories on rewind
You are blessed, you are alive
C'mon and give me a high five
Put on the seat belt and I'll drive
We need to tell others they need to survive
I always knew in some part(i don't feel like "knew in some part" is correct but it might be)
Something was there in your heart
That wanted you alive from the start
Now, you and happiness can never be apart!
I just corrected how what you wrote was written but there are other things i consider to be in poor taste and show ignorance of what depression actually is
Examples
-"Just give a break to you and your anxiety"
-"Don't let your soul be depressed"
-""I'm stupid" should be written on your shirt"
And i also don't like "thank god you are the one blessed" but that's for a different reason
I'd like to explain why those statements in my opinion are bad but i don't feel like it right now
P.S. Even after the correction some lines are just incomprehensible so improve what you're doing
CONTINUE THE STORY WITH ONE WORD.
@thestrangest fuck your rules
What is a rainbow?
Author Donald Ahrens in his text Meteorology Today describes a rainbow as "one of the most spectacular light shows observed on earth". Indeed the traditional rainbow is sunlight spread out into its spectrum of colors and diverted to the eye of the observer by water droplets. The "bow" part of the word describes the fact that the rainbow is a group of nearly circular arcs of color all having a common center.
Where is the sun when you see a rainbow?
This is a good question to start thinking about the physical process that gives rise to a rainbow. Most people have never noticed that the sun is always behind you when you face a rainbow, and that the center of the circular arc of the rainbow is in the direction opposite to that of the sun. The rain, of course, is in the direction of the rainbow.
What makes the bow?
A question like this calls for a proper physical answer. We will discuss the formation of a rainbow by raindrops. It is a problem in optics that was first clearly discussed by Rene Descartes in 1637. An interesting historical account of this is to be found in Carl Boyer's book, The Rainbow From Myth to Mathematics. Descartes simplified the study of the rainbow by reducing it to a study of one water droplet and how it interacts with light falling upon it.
He writes:"Considering that this bow appears not only in the sky, but also in the air near us, whenever there are drops of water illuminated by the sun, as we can see in certain fountains, I readily decided that it arose only from the way in which the rays of light act on these drops and pass from them to our eyes. Further, knowing that the drops are round, as has been formerly proved, and seeing that whether they are larger or smaller, the appearance of the bow is not changed in any way, I had the idea of making a very large one, so that I could examine it better.
Descarte describes how he held up a large sphere in the sunlight and looked at the sunlight reflected in it. He wrote "I found that if the sunlight came, for example, from the part of the sky which is marked AFZ
and my eye was at the point E, when I put the globe in position BCD, its part D appeared all red, and much more brilliant than the rest of it; and that whether I approached it or receded from it, or put it on my right or my left, or even turned it round about my head, provided that the line DE always made an angle of about forty-two degrees with the line EM, which we are to think of as drawn from the center of the sun to the eye, the part D appeared always similarly red; but that as soon as I made this angle DEM even a little larger, the red color disappeared; and if I made the angle a little smaller, the color did not disappear all at once, but divided itself first as if into two parts, less brilliant, and in which I could see yellow, blue, and other colors ... When I examined more particularly, in the globe BCD, what it was which made the part D appear red, I found that it was the rays of the sun which, coming from A to B, bend on entering the water at the point B, and to pass to C, where they are reflected to D, and bending there again as they pass out of the water, proceed to the point ".
This quotation illustrates how the shape of the rainbow is explained. To simplify the analysis, consider the path of a ray of monochromatic light through a single spherical raindrop. Imagine how light is refracted as it enters the raindrop, then how it is reflected by the internal, curved, mirror-like surface of the raindrop, and finally how it is refracted as it emerges from the drop. If we then apply the results for a single raindrop to a whole collection of raindrops in the sky, we can visualize the shape of the bow.
The traditional diagram to illustrate this is shown here as adapted from Humphreys, Physics of the Air. It represents the path of one light ray incident on a water droplet from the direction SA. As the light beam enters the surface of the drop at A, it is bent (refracted) a little and strikes the inside wall of the drop at B, where it is reflected back to C. As it emerges from the drop it is refracted (bent) again into the direction CE. The angle D represents a measure of the deviation of the emergent ray from its original direction. Descartes calculated this deviation for a ray of red light to be about 180 - 42 or 138 degrees.
The ray drawn here is significant because it represents the ray that has the smallest angle of deviation of all the rays incident upon the raindrop. It is called the Descarte or rainbow ray and much of the sunlight as it is refracted and reflected through the raindrop is focused along this ray. Thus the reflected light is diffuse and weaker except near the direction of this rainbow ray. It is this concentration of rays near the minimum deviation that gives rise to the arc of rainbow.
The sun is so far away that we can, to a good approximation, assume that sunlight can be represented by a set of parallel rays all falling on the water globule and being refracted, reflected internally, and refracted again on emergence from the droplet in a manner like the figure. Descartes writes
I took my pen and made an accurate calculation of the paths of the rays which fall on the different points of a globe of water to determine at which angles, after two refractions and one or two reflections they will come to the eye, and I then found that after one reflection and two refractions there are many more rays which can be seen at an angle of from forty-one to forty-two degrees than at any smaller angle; and that there are none which can be seen at a larger angle" (the angle he is referring to is 180 - D).
A typical raindrop is spherical and therefore its effect on sunlight is symmetrical about an axis through the center of the drop and the source of light (in this case the sun). Because of this symmetry, the two-dimensional illustration of the figure serves us well and the complete picture can be visualized by rotating the two dimensional illustration about the axis of symmetry. The symmetry of the focusing effect of each drop is such that whenever we view a raindrop along the line of sight defined by the rainbow ray, we will see a bright spot of reflected/refracted sunlight. Referring to the figure, we see that the rainbow ray for red light makes an angle of 42 degrees between the direction of the incident sunlight and the line of sight. Therefore, as long as the raindrop is viewed along a line of sight that makes this angle with the direction of incident light, we will see a brightening. The rainbow is thus a circle of angular radius 42 degrees, centered on the antisolar point, as shown schematically here.
We don't see a full circle because the earth gets in the way. The lower the sun is to the horizon, the more of the circle we see -right at sunset, we would see a full semicircle of the rainbow with the top of the arch 42 degrees above the horizon. The higher the sun is in the sky, the smaller is the arch of the rainbow above the horizon.
What makes the colors in the rainbow?
The traditional description of the rainbow is that it is made up of seven colors - red, orange, yellow, green, blue, indigo, and violet. Actually, the rainbow is a whole continuum of colors from red to violet and even beyond the colors that the eye can see.
The colors of the rainbow arise from two basic facts:
Sunlight is made up of the whole range of colors that the eye can detect. The range of sunlight colors, when combined, looks white to the eye. This property of sunlight was first demonstrated by Sir Isaac Newton in 1666.
Light of different colors is refracted by different amounts when it passes from one medium (air, for example) into another (water or glass, for example).
Descartes and Willebrord Snell had determined how a ray of light is bent, or refracted, as it traverses regions of different densities, such as air and water. When the light paths through a raindrop are traced for red and blue light, one finds that the angle of deviation is different for the two colors because blue light is bent or refracted more than is the red light. This implies that when we see a rainbow and its band of colors we are looking at light refracted and reflected from different raindrops, some viewed at an angle of 42 degrees; some, at an angle of 40 degrees, and some in between. This is illustrated in this drawing, adapted from Johnson's Physical Meteorology. This rainbow of two colors would have a width of almost 2 degrees (about four times larger than the angular size as the full moon). Note that even though blue light is refracted more than red light in a single drop, we see the blue light on the inner part of the arc because we are looking along a different line of sight that has a smaller angle (40 degrees) for the blue.
Ana excellent laboratory exercise on the mathematics of rainbows is here, and F. K. Hwang has produced a fine Java Applet illustrating this refraction, and Nigel Greenwood has written a program that operates in MS Excel that illustrates the way the angles change as a function of the sun's angle.
What makes a double rainbow?
Sometimes we see two rainbows at once, what causes this? We have followed the path of a ray of sunlight as it enters and is reflected inside the raindrop. But not all of the energy of the ray escapes the raindrop after it is reflected once. A part of the ray is reflected again and travels along inside the drop to emerge from the drop. The rainbow we normally see is called the primary rainbow and is produced by one internal reflection; the secondary rainbow arises from two internal reflections and the rays exit the drop at an angle of 50 degrees° rather than the 42°degrees for the red primary bow. Blue light emerges at an even larger angle of 53 degrees°. his effect produces a secondary rainbow that has its colors reversed compared to the primary, as illustrated in the drawing, adapted from the Science Universe Series Sight, Light, and Color.
It is possible for light to be reflected more than twice within a raindrop, and one can calculate where the higher order rainbows might be seen; but these are never seen in normal circumstances.
Why is the sky brighter inside a rainbow?
Notice the contrast between the sky inside the arc and outside it. When one studies the refraction of sunlight on a raindrop one finds that there are many rays emerging at angles smaller than the rainbow ray, but essentially no light from single internal reflections at angles greater than this ray. Thus there is a lot of light within the bow, and very little beyond it. Because this light is a mix of all the rainbow colors, it is white. In the case of the secondary rainbow, the rainbow ray is the smallest angle and there are many rays emerging at angles greater than this one. Therefore the two bows combine to define a dark region between them - called Alexander's Dark Band, in honor of Alexander of Aphrodisias who discussed it some 1800 years ago!
What are Supernumerary Arcs?
In some rainbows, faint arcs just inside and near the top of the primary bow can be seen. These are called supernumerary arcs and were explained by Thomas Young in 1804 as arising from the interference of light along certain rays within the drop. Young's work had a profound influence on theories of the physical nature of light and his studies of the rainbow were a fundamental element of this. Young interpreted light in terms of it being a wave of some sort and that when two rays are scattered in the same direction within a raindrop, they may interfere with each other. Depending on how the rays mesh together, the interference can be constructive, in which case the rays produce a brightening, or destructive, in which case there is a reduction in brightness. This phenomenon is clearly described in Nussenzveig's article "The Theory of the Rainbow" in which he writes: "At angles very close to the rainbow angle the two paths through the droplet differ only slightly, and so the two rays interfere constructively. As the angle increases, the two rays follow paths of substantially different lengths. When the difference equals half of the wavelength, the interference is completely destructive; at still greater angles the beams reinforce again. The result is a periodic variation in the intensity of the scattered light, a series of alternately bright and dark bands."
Mikolaj and Pawel Sawicki have posted several beautiful photographs of rainbows showing these arcs.
The "purity" of the colors of the rainbow depends on the size of the raindrops. Large drops (diameters of a few millimeters) give bright rainbows with well defined colors; small droplets (diameters of about 0.01 mm) produce rainbows of overlapping colors that appear nearly white. And remember that the models that predict a rainbow arc all assume spherical shapes for raindrops.
There is never a single size for water drops in rain but a mixture of many sizes and shapes. This results in a composite rainbow. Raindrops generally don't "grow" to radii larger than about 0.5 cm without breaking up because of collisions with other raindrops, although occasionally drops a few millimeters larger in radius have been observed when there are very few drops (and so few collisions between the drops) in a rainstorm. Bill Livingston suggests: " If you are brave enough, look up during a thunder shower at the falling drops. Some may hit your eye (or glasses), but this is not fatal. You will actually see that the drops are distorted and are oscillating."
It is the surface tension of water that moulds raindrops into spherical shapes, if no other forces are acting on them. But as a drop falls in the air, the 'drag' causes a distortion in its shape, making it somewhat flattened. Deviations from a spherical shape have been measured by suspending drops in the air stream of a vertical wind tunnel (Pruppacher and Beard, 1970, and Pruppacher and Pitter, 1971). Small drops of radius less than 140 microns (0.014 cm) remain spherical, but as the size of the drop increases, the flattening becomes noticeable. For drops with a radius near 0.14 cm, the height/width ratio is 0.85. This flattening increases for larger drops.
Spherical drops produce symmetrical rainbows, but rainbows seen when the sun is near the horizon are often observed to be brighter at their sides, the vertical part, than at their top. Alistair Fraser has explained this phenomenon as resulting from the complex mixture of size and shape of the raindrops. The reflection and refraction of light from a flattened water droplet is not symmetrical. For a flattened drop, some of the rainbow ray is lost at top and bottom of the drop. Therefore, we see the rays from these flattened drops only as we view them horizontally; thus the rainbow produced by the large drops is is bright at its base. Near the top of the arc only small spherical drops produce the fainter rainbow.
What does a rainbow look like through dark glasses?
This is a "trick" question because the answer depends on whether or not your glasses are Polaroid. When light is reflected at certain angles it becomes polarized (discussed again quite well in Nussenzveig's article), and it has been found that the rainbow angle is close to that angle of reflection at which incident, unpolarized light (sunlight) is almost completely polarized. So if you look at a rainbow with Polaroid sunglasses and rotate the lenses around the line of sight, part of the rainbow will disappear!
Other Questions about the Rainbow
Humphreys (Physics of the Air, p. 478) discusses several "popular" questions about the rainbow:
"What is the rainbow's distance?" It is nearby or far away, according to where the raindrops are, extending from the closest to the farthest illuminated drops along the elements of the rainbow cone.
Why is the rainbow so frequently seen during summer and so seldom during winter?" To see a rainbow, one has to have rain and sunshine. In the winter, water droplets freeze into ice particles that do not produce a rainbow but scatter light in other very interesting patterns.
"Why are rainbows so rarely seen at noon?" Remember that the center of the rainbow's circle is opposite the sun so that it is as far below the level of the observer as the sun is above it.
"Do two people ever see the same rainbow?" Humphreys points out that "since the rainbow is a special distribution of colors (produced in a particular way) with reference to a definite point - the eye of the observer - and as no single distribution can be the same for two separate points, it follows that two observers do not, and cannot, see the same rainbow." In fact, each eye sees its own rainbow!!
Of course, a camera lens will record an image of a rainbow which can then be seen my many people! (thanks to Tom and Rachel Ludovise for pointing this out!)
"Can the same rainbow be seen by reflection as seen directly?" On the basis of the arguments given in the preceding question, bows appropriate for two different points are produced by different drops; hence, a bow seen by reflection is not the same as the one seen directly".
What are Reflection Rainbows?
A reflection rainbow is defined as one produced by the reflection of the source of incident light (usually the sun). Photographs of them are perhaps the most impressive of rainbow photographs. The reflected rainbow may be considered as a combination of two rainbows produced by sunlight coming from two different directions - one directly from the sun, the other from the reflected image of the sun. The angles are quite different and therefore the elevation of the rainbow arcs will be correspondingly different. This is illustrated in a diagram adapted from Greenler"s Rainbows, Halos, and Glories. The rainbow produced by sunlight reflected from the water is higher in the sky than is the one produced by direct sunlight.
What is a Lunar Rainbow?
A full moon is bright enough to have its light refracted by raindrops just as is the case for the sun. Moonlight is much fainter, of course, so the lunar rainbow is not nearly as bright as one produced by sunlight. Lunar rainbows have infrequently been observed since the time of Aristotle or before. A graphic description of one was writen by Dr. Mikkelson.
Rainbows and Proverbs
There is a delightful book by Humphreys entitled Weather Proverbs and Paradoxes. In it, he discusses the meteorological justifications of some proverbs associated with rainbows, such as "Rainbow at night, shepherd's delight;Rainbow in morning, shepherds take warning,"If there be a rainbow in the eve,It will rain and leave; But if there be a rainbow in the morrow It will neither lend nor borrow", and Rainbow to windward, foul fall the day; Rainbow to leeward, damp runs away."
The meteorological discussion Humphreys presents is appropriate for the northern temperate zones that have a prevailing wind, and also for a normal diurnal change in the weather.
Experiments
William Livingston, a solar astronomer who has also specialized in atmospheric optical phenomena suggests the following: "Try a hose spray yourself. As you produce a fine spray supernumeraries up to order three become nicely visible. "Try to estimate the size of these drops compared to a raindrop. ..."Another thing to try. View a water droplet on a leaf close-up - an inch from your eye. At the rainbow angle you may catch a nice bit of color!"
In Minnaert's excellent book Light and Colour in the Open Air you can find a number of experiments on how to study the nature of rainbows. Here is an illustration of one of his suggestions. Other demonstration projects are listed here .
If god created the universe, then who created god? (question for theists)
@queenlope said in If god created the universe, then who created god? (question for theists):
@thestrangest "I find it extremely aggravating when people realise that the first definition they had of god was too strict therefore too easy to criticise and that's why they string together a bunch of words like "energy", "frequency", "collective consciousness" "
About this, you are acutally going against a school of thought.
"A school of thought" what is it called then? And if it's a school of thought then who cares? Does that mean I'm not allowed to criticise it?
A school of thought that I believe in and just like jesus or any other Gods, at the end of the day, they are just beliefs
Some beliefs are harmful(e.g. believing in the need for an Aryan race) and irrational(astrology) which in turn also makes them harmful(the average IQ of a theist is 7 points lower than an atheist). What is "they are just beliefs" supposed to mean
I don't think there is any point on me trying to argue about the fact that my beliefs are the right ones or the ones that everyone should follow.
Doesn't this mean you just admitted that you don't care if your beliefs are true or not?
The reason why I believe God is "energy" or just an "higher consiousness" are simple.
Well let's see the reasons
I believe in a creator
I don't think you have a good reason for believing in a creator
but I do not believe in the holly books and all the history and the beliefs that are taught around
You realise how stupid religion is but you still want to hold on to a concept/thing that comforts you and call it god when infact you can just hold on to that comfortable concept/thing and call it what it is
which is why I decided to start everything on my own and begin meditation
Good idea
As a result, I did feel a flow or a connection that went through the bounderies
your self perceived sufficient revelation which I'd argue adds no validity to your beliefs even from your own perspective because atheists have claimed to have had the same experiences(but ofcourse atheists and religious people all atribute these things to different causes, the atheist usually knows how neurology explains all these things or just that it does even though he doesn't need to) so until you give a good reason for why you think these experiences couldn't have happened without a god your opinion doesn't matter
which is why I define it as the core and I decided to interpret that this energy that flows through everything is God as God is everywhere.
So basically god is everything and everything is god.
(YOU CONVENIENTLY IGNORED THIS PART OF MY LAST REPLY):
That's just the same as saying that god is the universe in which case sure, god exists, you can feel his presence and you are part of him and he is part of you just like when meditating you're told to feel the world around you, how you are part of it and it is part of you(atheists meditate too and can be spiritual), but what need is there to call the universe god when you can just say "universe"?
I can understand why you would think that "energy" has no link to the holly science but this is how I made the link between the sun and my beliefs:
The Sun is God and the Sun is a Major source of energy.
so you are literally a sun worshipper, am i supposed to take what you're saying seriously? You believe the sun is god, that's just stupid, tge sun simply didn't create the universe, we know it didn't
Either way, would you mind giving your definition of energy as you said people get confused when you show them energy itself?
MY definition of energy? There is only 1 correct scientific definition of energy
Energy, in physics, the capacity for doing work. It may exist in potential, kinetic, thermal, electrical, chemical, nuclear, or other various forms. There are, moreover, heat and work—i.e., energy in the process of transfer from one body to another. After it has been transferred, energy is always designated according to its nature. Hence, heat transferred may become thermal energy, while work done may manifest itself in the form of mechanical energy.
What we perceive as our physical material world, is really not physical or material at all, in fact, it is far from it.This has been proven time and time again by multiple Nobel Prize (among many other scientists around the world) winning physicists, one of them being Niels Bohr, a Danish Physicist who made significant contributions to understanding atomic structure and quantum theory.
"If quantum mechanics hasn't profoundly shocked you, you haven't understood it yet. Everything we call real is made of things that cannot be regarded as real." – Niels Bohr
At the turn of the nineteenth century, physicists started to explore the relationship between energy and the structure of matter. In doing so, the belief that a physical, Newtonian material universe that was at the very heart of scientific knowing was dropped, and the realization that matter is nothing but an illusion replaced it. Scientists began to recognize that everything in the Universe is made out of energy.
"Despite the unrivaled empirical success of quantum theory, the very suggestion that it may be literally true as a description of nature is still greeted with cynicism, incomprehension and even anger." (T. Folger, "Quantum Shmantum"; Discover 22:37-43, 2001)
There is no reason to think energy as we know it is conscious, everything is energy including human consciousness(and other animals with brains) that's just a bunch of neurons and the electrical pulses neurons use to communicate with each other(as far as we know) but there is 0 good reason to think the universe is conscious, which means that it knows that it exists and can think for itself
Nice video by the way but if you want to get in debt into the subject I would highly suggest this one:

Go in depth*
That video wasn't meant for you but thanks. And no i will not watch a 3 hour video (this being part 1), i watched 5 minutes and stopped
English is not one of my first languages so I might be making mistakes that I am not aware of, feel free to correct me if you feel the need to do so.
Don't worry you're comprehensible. I'm Palestinian(Palestine;Jesus's supposed place of birth), it isn't my first language either not to mention me never having been in an English speaking country.
This is the first reply from you to me and you are already cherry picking which parts you want to respond to, read the whole thing man.
P.S. optional video, it helped me feel spiritual for the 1st time as an atheist:
All is One ,One is All. # Part 1 (Stranger Danger's 1st literature on TWS )
AN : There has been heavy rainstorm & lightning where i am .
It's cloudy ,cold & refreshing now ...the weather seems perfect for a deep introspective piece of literature .
I was recently quite sick & during that time i thought to finalize this piece & release it.
This Story is in 3 parts .
I'll link them all down .
Part 1 : (Beginning)
---
I was going for a walk when it happened.
I often go on walks, just to clear my head and get away from it all.
To escape from the hustle and bustle of everyday life.
To find myself. To really think about things.
That seems much deeper than what it really is actually.
I just have this perfect time between needing to work and needing to eat every day that I use for my daily exercise.
The thinking thing just happens thanks to not having anything else to do for half an hour.
So, I had just reached the half way point and was turning around when I looked back on the city I had just left behind.
I was coming up to the top of a hill when I looked down at the well lit town, and the view was as good as it always was.
Don't get me wrong, if you saw it for the first time you would think that it was amazing, but after the second hundred mark even the most beautiful of scenery can get repetitive.
Something was different today though, something big.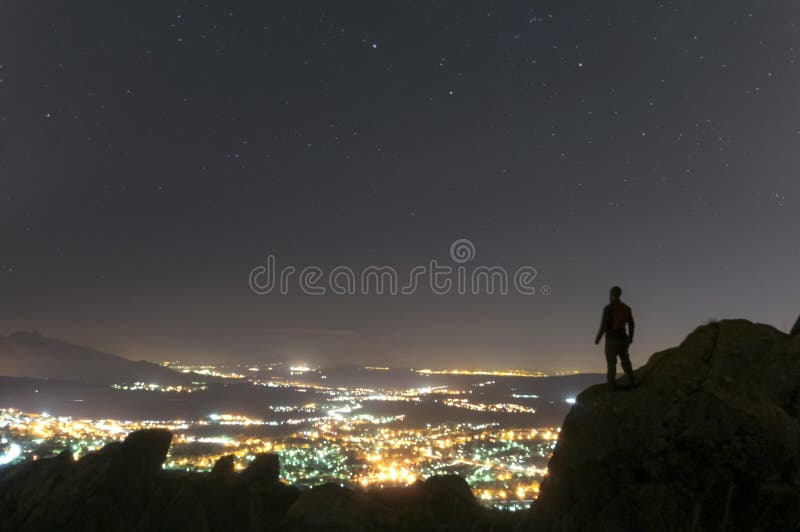 From up on that hill you can see hundreds of buildings lit up as they continue their work into the night, thousands of headlights moving from place to place, from light to light.
The wind passes the grass in waves, carrying with it the seed of growth. Flowing across the landscape and burrowing into the cool soil.
Plant-life seeks the sky and with it the dominion of life expands. The roots settle, it is the season for blossoming.
It was as beautiful as always.
But today there was something off about all those lights.
Something was more to them.
It hit me just then, a memory of something somebody must have said to me once, a word with the strangest meaning.
I remembered it with impossible clarity.
---
Sonder
A Noun.
The realization that each random passerby is living a life as vivid and complex as your own ?
populated with their own ambitions, friends, routines, worries and inherited craziness ?
An epic story that continues invisibly around you like an anthill sprawling deep underground, with elaborate passageways to thousands of other lives that you'll never know existed, in which you might appear only once, as an extra sipping coffee in the background, as a blur of traffic passing on the highway, as a lighted window at dusk.
I have no idea at all how I knew that word for word but something far more pressing was weighing on my mind.
Every one of those lights was a person. Not faceless people, a person with dreams and fears and a lot of other things.
Every person was a light.
There were thousands of lights in front of me.
There were thousands of lives I had not realized existed until just this moment.
No. No, there were more.
There were tens of thousands. Hundreds. Millions. Billions.
Thousands of thousands of thousands, all so real.
All. So. Painfully. Real.
The specter's march past me by the thousand
By the thousand thousands and many more,
Infinite upon infinite
They don't look back
I stare on.
---
Part 2: https://chatrooms.talkwithstranger.com/topic/18082/all-is-one-one-is-all-part-2-stranger-danger-s-1st-literature-on-tws
Part 3: https://chatrooms.talkwithstranger.com/topic/18083/all-is-one-one-is-all-part-3-stranger-danger-s-1st-literature-on-tws
---
Dedicated to all the Special People here -
@TeenTouch(Thanks for being my First Friend
) ,
@TheStrangest(You're awesome
) ,
@US-poet(God ,please Judge my piece
) ,
@Evan-Elderson(Stalwart & Comforting presence
) ,
@Willoww (The cold refreshing wind that invigorates a person .The home that people return to after a hard day ...dat's you
)
@WtfJudith (Spawn of Satan ...JK ,you're great !
please dont murder me in my sleep)
@cutie-cat (We never talked personally ,but your decisiveness & will are admirable.)
@sup (Lololol ...Partners in Crime.
)
@Rendezvous (Soulmates (lol ,inside joke)
)
@Zazzles (I really like your attitude ,lol Prime good person material there
)
@layIa ( Humorous & Nice ....Jackpot !! Lol ,we had so much fun
..sorry for being kinda rude on our 1st meeting.)
@Kimmy159 (The Girl next door ...
..distant but always there.)
@Lucifer_(Quis custodiet ipsos custodes
)
@Catwoman(Always nice to have a burglar in the gang.
)
@Cheesecake-Lesb (You have always been straightforward ,i find that nice ..sorry for being weird on our first comment faceoff. My humor got carried away.
Sorry.)
@babygirl95 (I like your poems ,they convey more than their size ..a puncher above their weight size you can say
)
@kayisforeign (lololol ..your smartassery is like fire
)
@FearlessWoman (Great poems ,coming for US-poets throne.
)
@im-bored (Lol ,dynamic is thy name
)
@BOOTS22 , @Abby-83 (Havent really talked to you guys ,but i liked your recent views on love ..so here's mine
)
@Rabbitboy , @xXmysticXx , @LittleWOozie , @im-a-bae (you too guys
)
& so many more ...i would type ,but dang this is exhausting !!!
Just include yourself in this list.
---
Who loves Harry Potter!
My Harry Potter story is quite interesting.
So I'm that kind of person who has fantastic skills in judging things which I haven't even tried. After watching the first movie for a few seconds some years back, I made this image of it being "boring". Yes, I do annoying and senseless things sometimes.
But.......when I started watching the movies one by one......One part every day.....until there were no parts left. I knew that this is the movie of my life and the best I've ever seen. I was seriously thrilled and fell in love with it thereafter. The last part got me saying: I need more of HP movies.
But alas, this was the end of the greatest film series of all time.
My favorite Harry Potter characters are:
Dobby, Snape and Hagrid


I was in tears when Dobby 'the free elf' died.
Here s a little addition to my post: